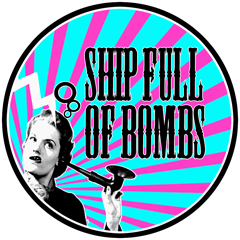 The delectable WEIRDGEAR (who had the honour of headlining the final ever No Fiction live show back in the summer,) have launched their latest long player COSMONAUTS DISCOTHÈQUE.
On Sunday just gone they hosted an excellent show on the internet's finest radio station Ship Full Of Bombs. Part album play back, part interview: the show features an extensive look at the analogue synth-tastic record as well as recorded interview sections from various luminaries taking their respective turns to interrogate the band including yours truly.
The album is astonishingly good. Probably what they will use to soundtrack the remake of Drive in 30 years time. Invest!
Have a listen to the show on the podcast now and keep your ears peeled for a No Fiction poser in the first hour.